Abbey Montessori



Curriculum

"Children have their own laws of development; it is a question of following these, not of imposing ourselves upon them."

-Dr Maria Montessori


Working on an animal puzzle

Infant & Toddler

The Montessori Program provides the sense of security, nurturance and loving care that infants and toddlers need to thrive during this stage of intense learning. Since infants and toddlers need to achieve gradual independence, we provide individual attention as your child deals with positive experiences as well as frustrations.

The curriculum takes advantage of the rapid growth of fine and gross motor skills including:

sensory and perpetual development

self-help skills

physical and motor skills, and,

social and emotional growth

Preschool

Practical Life

Children delight in the abundance of practical life exercises. These exercises enable confidence in completing activities of everyday life. The desire to imitate adults is satisfied with items especially scaled to his size.

The child is attracted to the things that give independence and control in life. They are given experiences of sweeping, dusting, and polishing.

There are exercises for washing, pouring, and gardening. The child is able to methodically master all of the skills needed for independence.

The delight for the child is in the doing. While he is enthralled with each exercise, he is developing his concentration, his attention to detail and his coordination of movement. These exercises are the foundation on which the child approaches all other work.

Sensorial

Wonderful new sensations surround the children continually. The sensorial materials activate a child's absorption of these new impressions. They enable categorization and organization of the unfamiliar with the familiar. Each piece of material isolates one definite quality of a sense - color, size, weight, shape, texture, or sound. Each piece of material stimulates extensive vocabulary building. This sensorial basis is present in many of the academically-oriented materials.

The importance of the sensorial development cannot be overstated. When a child develops his senses, he not only develops himself but he forms his learning tools.



A toddler working on the knobbed cylinders - a Montessori method of learning



Listening to a story



Tracing sandpaper numerals - a math Montessori material



Mastering the buttoning exercise using the dressing frame - a Montessori material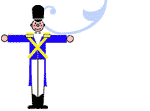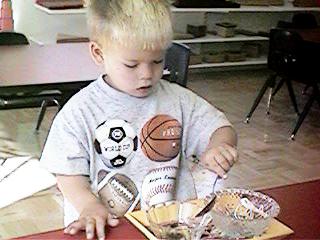 Developing fine motor skills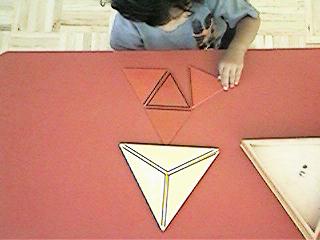 Constructing a big triangle using small triangles - a sensorial exercise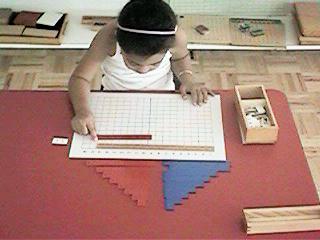 Mastering subtraction with the help of the subtraction strip board - a math exercise
Language
Your child has learned the oral language naturally. He automatically absorbed it from his environment. It is the directress who brings these words to life. Games fill the children with a love of sounds which becomes personalized. The
Montessori child
begins rreading when he is ready, and proceeds at his own pace. There is great glee when the sound "a" is at long last graphically represented. It is basis for reading. Utilizing your child's desire to touch, the letters are cut out and mounted for tracing. He not only hears the sounds and sees its shape, but now into tracing, is able to train his muscles for tracing.
Mathematics
The world of numbers and their function is presented to your child in the most logical, understandable and exciting manner. Each mathematical concept has a concrete piece of
apparatus
to embody it. By manipulating these exquisitely clear materials, your child's understanding gains substance. This concrete quality allows him to progress to the realm of fractions and geometry. Mathematics becomes not terrifying, but a vibrant and inviting new dimension.
Geography
The study of geography includes the use of globes, puzzle maps, flags, picture folders, books and stories.
Science
The children conduct and observe various experiments with simple equipment. They learn to identify and classify. The preschool curriculum includes work in zoology, biology, and botany.

Music
Through the use of a special apparatus, the children learn the notes of the scale and to match and grade them by ear. From this point, they may progress to the composition of simple melodies. They are introduced to famous composers and to the various classifications of musical instruments
Art
Art is an important part of all life. It is the expression of the spirit of man. Indirect preparation for art is necessary. Movement exercises are essential to gain body control. Sensorial work with colors, shapes, and textures help prepare the child. Materials which develop the pincer grasp aid the child in using pencil, crayon, and brush. Work with shape and dimension helps the child with composition, arrangement and form. Children decorate their math and writing work.
The environment is decorated with copies of well-known art works. The child learns to cut, glue, and color and moves on into sewing, knitting, weaving, and more complicated projects.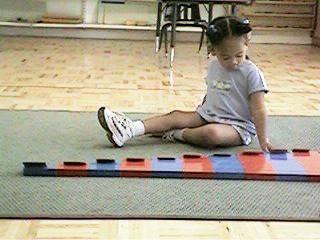 Associating quantity and symbols of numbers - a math Montessori material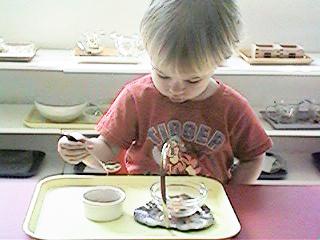 Transfering Beans - a practical life exercise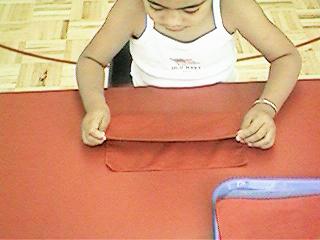 Folding - a practical life exercise